(a continuation of a previous blog on Ouida and Mario)
What "Art" was and its relation to her writing were very much on Ouida's mind in mid-1871.
We know from surviving letters that in the early summer Ouida had become concerned with the discussions around a proposed Dogs Act which would give any summary court powers over the destruction of stray, dangerous and rabid dogs. Determined to block the passage of this Act, in early June, having already been told that he liked her work, Ouida contacted Edward Bulwer-Lytton to elicit his support. He wrote her a kindly response and thereupon she invited him to visit her at the Langham Hotel where she had lived with her mother since 1867. He came several times, much to her delight.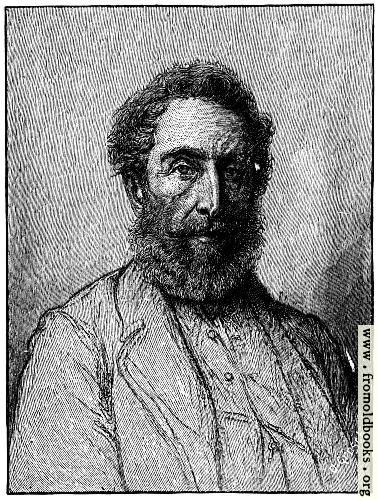 Bulwer-Lytton was a key figure in the development of popular fiction. His help to Mary Braddon is well documented, and, though to a much more limited extent, he acted as Ouida's mentor as well. After she had left London for her tour of the continent, he wrote Ouida a long but positive critique of her latest novel
Folle Farine
. His letter does not survive, but Ouida's response to it does. She wrote it at the Hotel de York, Spa (Belgium), the hotel Baedeker and Bradshaw recommended for English visitors to this already faded (though still respectable) resort. Ouida's letter is keen to associate her novel with 'Art' by attributing it aesthetic value through the conventional eighteenth-century criteria of 'judgement' and 'sympathy' (I always think of Elinor and Marianne in Austen's 1811
Sense and Sensibility
when I think of those). Ouida ends by justifying her exploration of painful emotion and unconventional sexual arrangements as 'Art' and the duty of the artist.
It would be terrible to me to think that I had wrought an injury to any Soul, but it always seems to me that the artist has one duty that he must place before all ‑‑ i.e. to seek earnestly for the truth with all his strength & as he beholds it so to endeavour to set it forth.
She was in November to write to Isabel Burton (wife of the explorer, diplomat, orientalist Richard) and, the following year, to the conservative politician, poet and literary patron Lord Houghton that Folle-Farine should indeed be considered primarily as 'Art'. Whether this was a retrospective judgement supported by the favourable reviews that compared the Folle-Farine's 'art' to that of 'our pre-Raphaelite painters' or whether the novel had been written intentionally as an 'Art' (as opposed to commercial) novel remains unclear. Even though an artist figures very prominently as a heartless Lovelacean seducer in the novel, the nature of art  is not substantially discussed in it compared to in Ouida's novels of the 1870s. Likewise in her response to Bulwer, Ouida doesn't set out an aesthetic credo beyond saying that in her view the artist should always try to represent the truth  without causing  "injury to any Soul" – an unambitious and generic programme. As mentioned in a previous blog, for Folle-Farine Ouida had managed to get £900 out of her publisher Chapman – considerably more than she had received for her earlier novels. Ouida certainly knew about the hard cash aspects of art, but her letters suggest that she was at this stage just wondering about what other symbolic systems art might be involved in.
There is another letter that needs to be mentioned here too — a previously unnoticed one from Ouida in the press. On 12 June 1871, the Morning Post published a letter to the Editor from her in response to an article supporting the Dogs Act that had appeared in the paper the previous week. Ouida wrote that while the Morning Post's position was a very reasoned stance, she wished to add that 'the emotional side of the subject is one which may be most fairly taken into consideration' – for dogs are friends who can teach us 'lessons of faith and fealty.' Ouida must have been proud of this letter for she sent a cutting of it to Bulwer Lytton. The basis of the letter's argumentation is the binary of  "reason" and "emotion". It is not too great a leap to match this both to the "judgement" and "sympathy" opposition in Ouida's later letter to Bulwer and to the sentimental tradition of writing in general whereby the sharing of emotions is regarded as a way to form communities.  The purpose of "Art" in this understanding is indeed to forge communities through "sympathy" – common feeling – with the "truth" arrived at through reason/ judgement. To forge a community is necessarily a political act which involves ethics. Ouida is trying to forge a community around an ethical cause and thereby cause political change.
It is not I think too far to claim that we see in this brief letter to the Post Ouida publishing for the first time with a purpose beyond the commercial, and also beyond the economic interests of herself and her family. She may not have found a reason for her 'Art' yet, but she has found, on a miniature scale, a reason for writing: to change society for what she believed was the better by appeal to common emotions without thought of payment. A week before the collective ecstasy of Mario's last performance, Ouida's explicit political and economic engagement had begun.
An encounter in Brussels would very soon sharpen the edge of her desire for something in her aesthetic and economic life beyond hard cash.
(to be continued)